More.
- Table host icon in the table list:

- Trophy count box in the Bio Overview page (Regular, Special and Major trophies):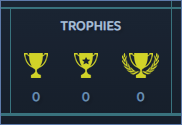 - The in-game notification popup is now semi-transparent to allow players to see the aiming line through the popup if it is still showing.

- Tournament winners now get a trophy badge next to their usernames for a certain period of time. Regular tournament winners will get a trophy badge for 3 days. Special & Major tournament winners will get a trophy badge for 1 month.

- Sending private messages to a member who has logged off will now tell you that the user is no longer online, saving you from the embarassment of chatting to yourself :).
- Tournament no-shows have penalty points deducted from their rating, which is awarded to their opponents. If none of the two players show, the penalty points are not propagated to the next round.
- A darker shade of green has been applied to the green ball to allow some users to see it better.
- Wider lobby view for bigger screens.
- Bug Fix: The issue with merging balls has been solved.
- Bug Fix: Break-Off shots now alternate correctly between players during match.
- Bug Fix: Joining the Tournament Lobby directly from a link in another lobby whilst playing the Practice Mode, no longer bugs the first tournament match.
- Some strange sightings have been reported recently, which we...[The communication signal has been interrupted!]
Update Notes For Previous Version